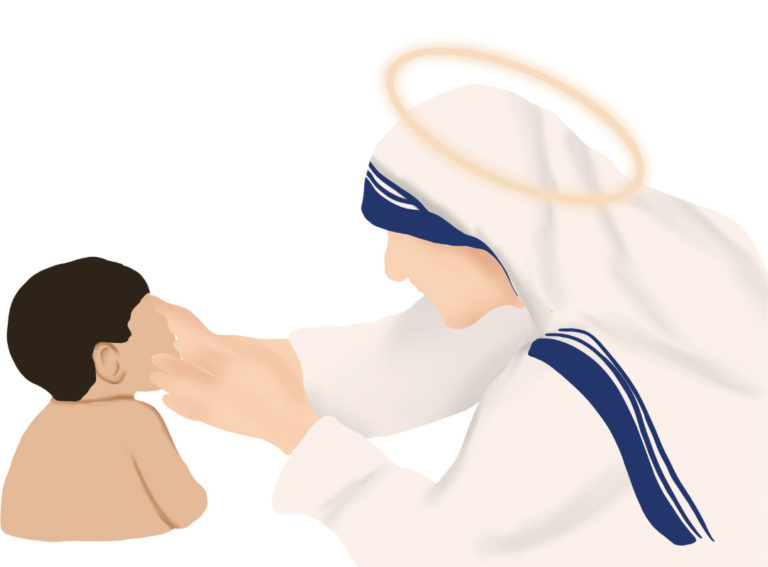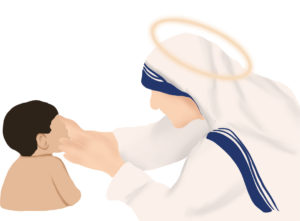 Mother Teresa
Saint of the Poor
1910 - 1997
Canonized: 2016
Missionaries of Charity, World Youth Day, Archdiocese of Calcutta (along with St. Francis Xavier)
St. Teresa of Calcutta, known as Mother Teresa, was born in Macedonia in 1910. Her family was of Albanian descent. She was baptized as Agnes Gonxha Bojaxhiu. She was only 18 when she left her home to join the Sisters of Loreto in Ireland. She took the name Teresa in honor of Thérèse de Lisieux, the patron saint of missionaries. A year later, she traveled to India to begin her novitiate. She stays with the Sisters of Loreto for almost 20 years.
She was greatly moved by the suffering of the poor at their doorstep. In 1948, she was granted permission to begin work in the poorest slums of Calcutta. To prepare, she learned basic nursing skills. In addition to caring for the poor and sick, she founded a school.
In 1950, she founded the Missionaries of Charity. Her work extended to hospice care for people of all backgrounds and religions, including those suffering from leprosy, for orphans, and the homeless.
She received the Nobel Peace Prize in 1979 and donated the prize money to the poor in India. She suffered from poor health toward the end of her life and retired as the head of the Missionaries of Charity in 1997, passing away shortly thereafter.
St. Teresa of Calcutta, pray for us!
"Do ordinary things with extraordinary love."